The google my business page is the single biggest thing you can do to get free organic traffic to your salon and web site. I can't emphasize enough how much google focuses on this in their search engine. Face it, everyone "googles" you and you need to show off what your store can do. Your my business page is very important
All you need is a Google Account & set up your page 
I'm going to break this down into different articles and this one will give you the bare bones. There's more to google's my business but eventually I'll have a full tutorial .
Start here : https://www.google.com/business/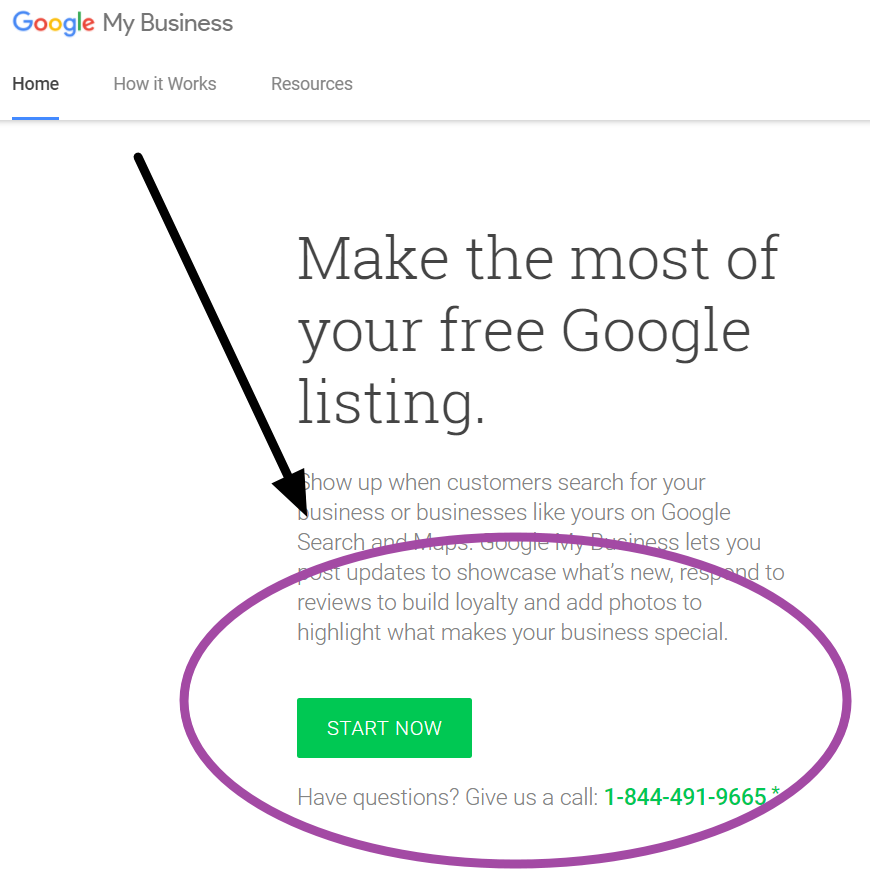 **NEXT PAGE**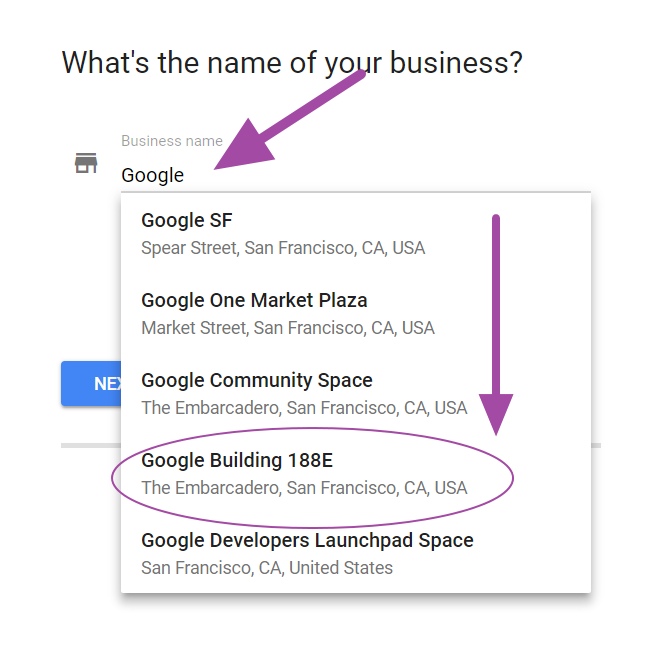 I think you get the point, so keep going until you reach the end.
There's going to be 2 ways Google will verify it's you.
Via Post Card (may take weeks)
Via Phone Call
The phone call usually works best but if you're a big company, your customer service rep will get the call. So tell them ahead of time to get your the Pin#. Sometimes the mail does get lost so you'll be forced to get another post card from google again.
3 Basic Items to get started
Since there's a lot of other neat features google has, I'm only going to show you the 3 basic settings that I think are important at the moment.
This is what your main google dashboard will look like and I'll go over 3 basic things on your page
Main menu, Info, Messaging, and Web site…Ok I lied that was 4 🙂
If you read online, there's a lot of emphasis on getting your Name, Address and Phone Number on the Google page.
Google basically wants you to put your full information as much as you can. This will help out too because your customers will also need information to get directions, phone number , and hours etc..
Imagine if I didn't have this on my business page? I would miss 91 phone calls that I recorded! Can you imagine losing that much or not having that data?
Let's avoid this and I'll teach you how I did my google business page.
INFO:
Make sure everything is completed and fill in as much as you can. Google loves having everything correctly filled out
Check out the screenshots
I couldn't find much on Advanced Information, looks like it's used for internal use.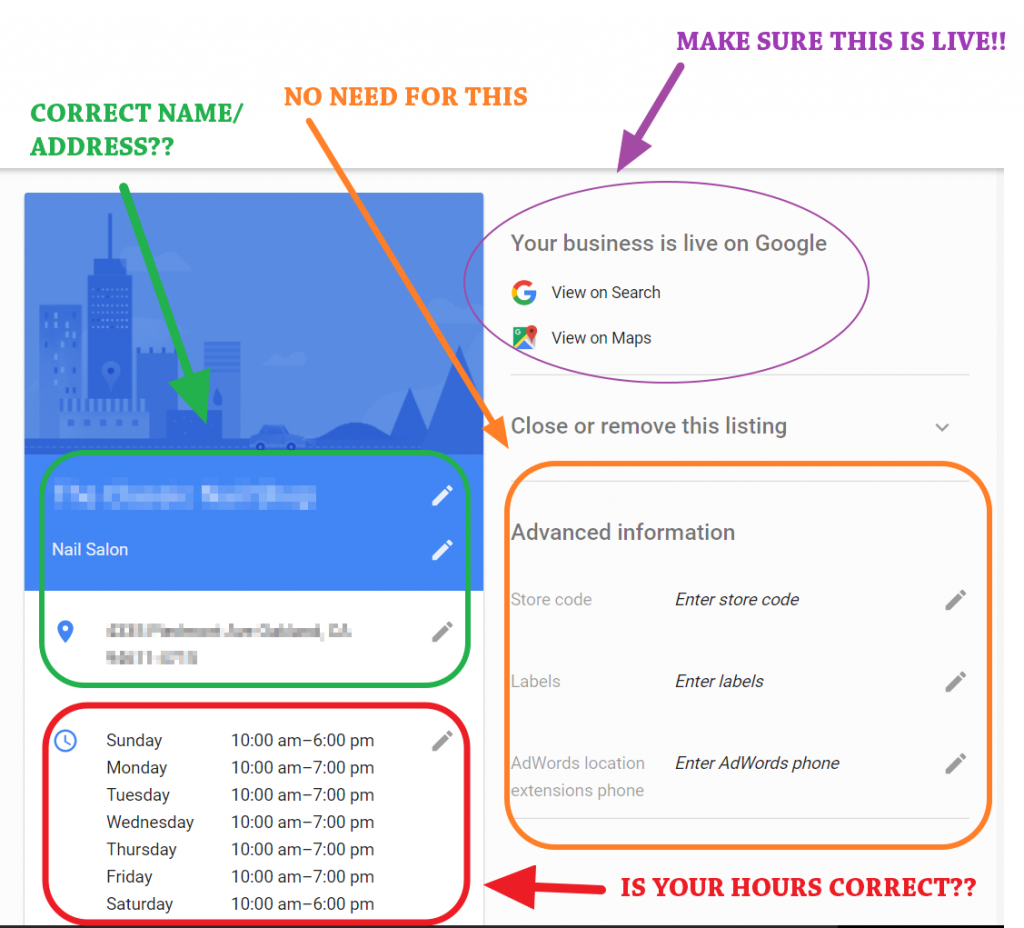 Keep scrolling down…"INFO"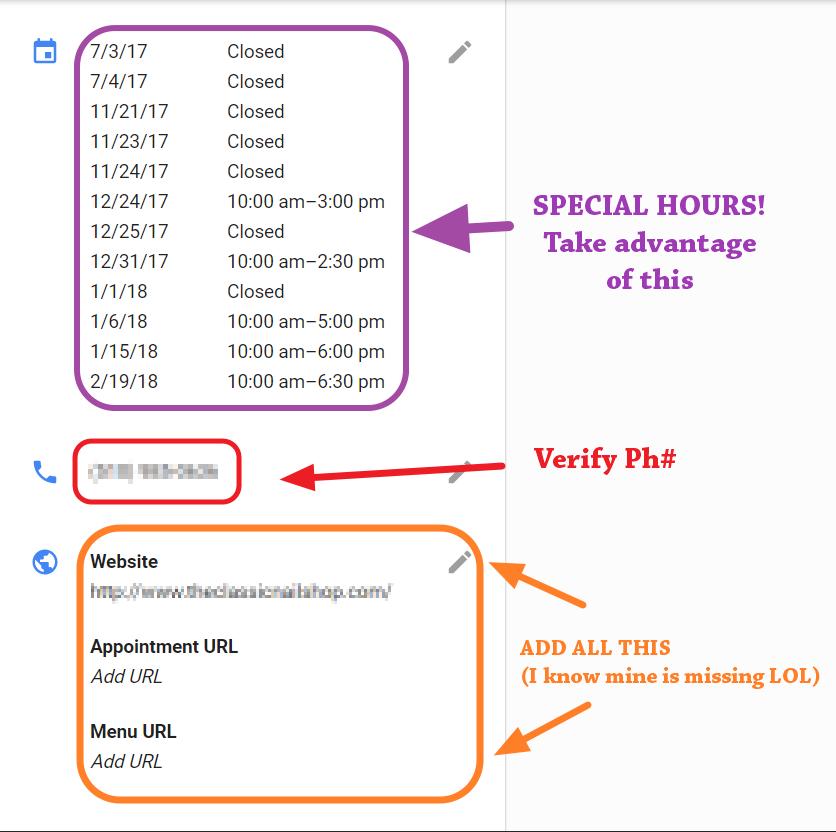 I can't emphasize the hours! This is the best feature google has because you can change the hours for holidays or any special event.
This will prevent clients from coming in when you're closed which minimizes customers coming home angry because you were closed. Don't be afraid to put closed on a day you know you'll be closed. It's better to lose a customer that day by saying you're closed than losing a customer because he/she went to your store.
Google will ask if you have special hours on certain holidays so don't be lazy and update the hours for that day.
The web site , appointment url and menu url is important too. The reason why I don't have mine is, I'm literally on a software program/ CRM that will work with me on this portion. So stayed tuned because I'm going to review their program.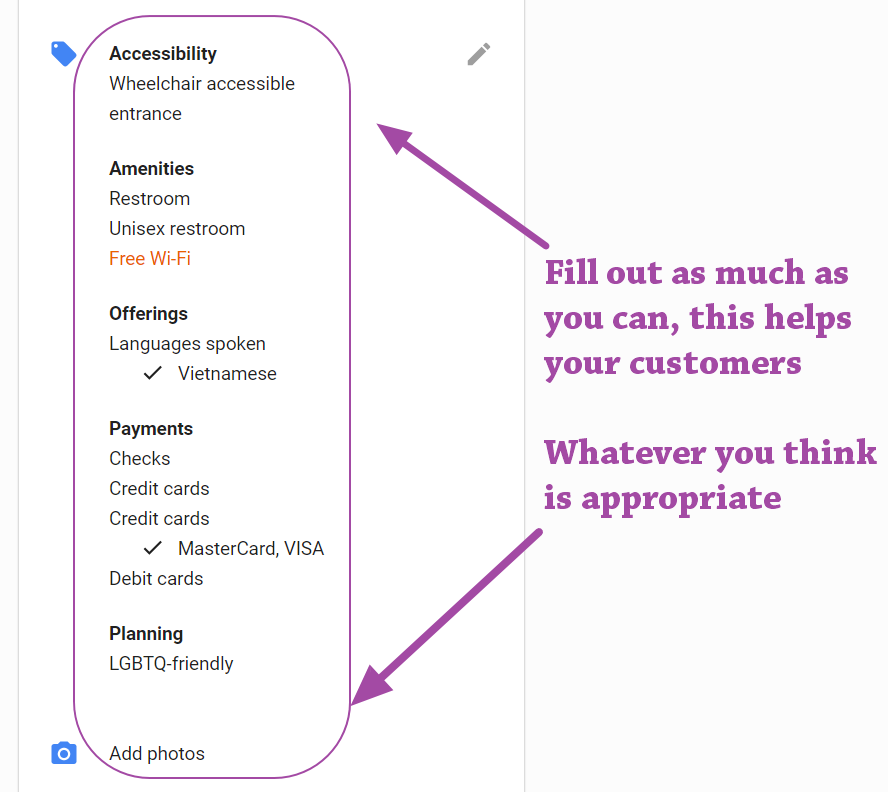 NOTE: Most of you guys will not accept credit cards…you're losing customers because of that.
Quick story:
We bought this existing nail salon and the lady who owned it was "cash only". I had a lot of her old customers and they told me the exact same story. I'm talking about at least 5 of her old customers. People will unknowingly walk and get their pedicure/manicure and when they are ready to pay, they find out its cash only. Do you know how irritating that is for a customer? So the customers would come back, look for a bank or ATM, possibly get charged ATM fees, just to pay for their nails. What if they had a pedicure? You really want to walk 3 blocks in disposable flip flops?  In an upscale location, this is horrible. I eat the fees because 1%-2% + .15-.20 cents which sometimes out to be .60-.80 depending on the service is worth it. Customers WILL COME BACK! My customers will NEVER EVER need to walk out to pay me. I even take Venmo. (I'm serious) That's bad service for Cash Only in my opinion…OK Sorry guys end /RANT 🙂 
Messaging :
This is another cool feature of your google my business page.
Let your Customers message you
Google started to make messaging available so customers can chat/text you through your phone. Unfortunately, I have no been able to test this out. I have it on my google page for about 2 months now and not person gave me a text. I'm thinking not a lot of people know about this feature from google but they will end up calling you instead.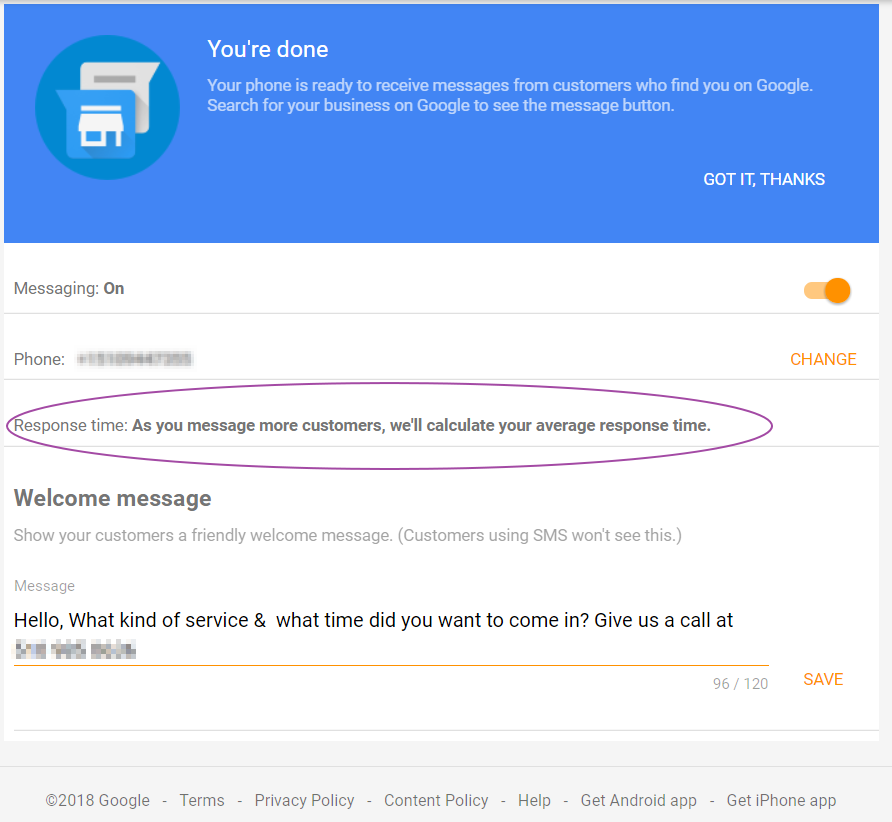 Web Site:
This is another feature we can use to make your life easy. I played around with it and you have a 1 page web site with a google domain.
The cool thing is, there's already pre-made themes that will help you choose what color scheme you like.
When you edit the text on the web site builder, you can put your nail salon information. It's not fully customizable (location) but it's a very basic tool. You can't move where your hours will be or your main text.
When you choose the picture, you can take a few pictures of your shop and upload it on the google site. It works well but again, you can't really customize the differnt locations.
Works best for non-tech-savvy
It's enough to get started and if you're savvy enough, not a problem to use 🙂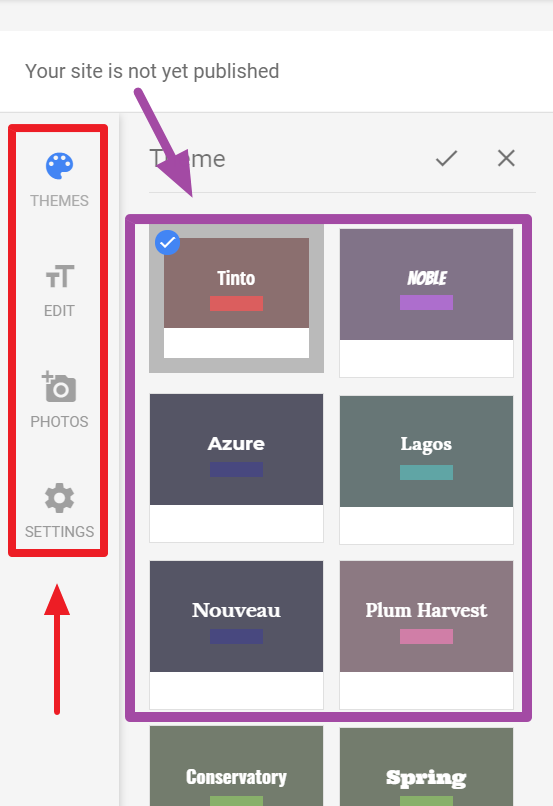 What is the outcome of using the google my business page? 
What results do you get?
See below for an example :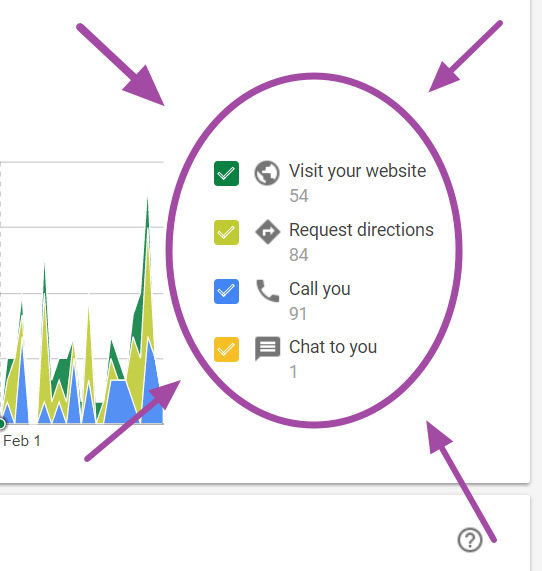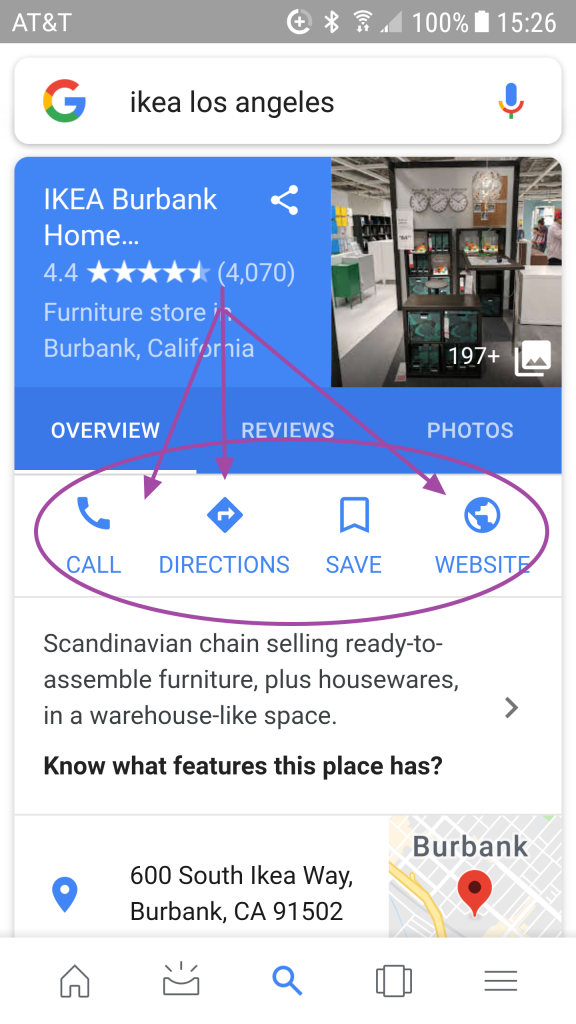 These numbers tell you a lot from customers and it's enough for most people to increase their online presence.
It's enough to make rational decisions on your online strategy.
The breakdown above will be explained.
Visits to your site: The customer wants more information about your business. They are a warm lead and the reason why google is so strict on adding this information is due to the customer. Did Google's algorithm work when they searched for what they were looking for? I'm looking for an Ice Cream shop and Google gave me a Pizza result. Bad user experience for google so now you understand why we did the steps above? The business page just needs to tell google "Hey this is what we do here and send people over that fits this persona"
This is why you need a web site that is updated including new pictures and updated contents. 
Request Directions: You're locked in. The customer wants to visit you so they are probably on the way. The only bad thing that can happen is if your business hours is wrong or you're closed on a day you didn't update. Now your customer is on the way to find out you're closed. Again they will get angry so it's a courtesy to put that you update your listing.
Call you: Again, this is probably the most important statistic number. Someone who calls you means they are either going to book an appointment or asking a question. Google did its job and it's up to you to move forward and seal the deal. Pick up the phone when it rings because you may not get a 2nd chance to get this customer who was interested in your business.
Chat with you: I have no experience on the chat feature as of 2/27/2018. I'm ready for it but I think google still has to advertise it to a bigger audience. Not a lot of people use the chat feature which "Millennials" love anyways 🙂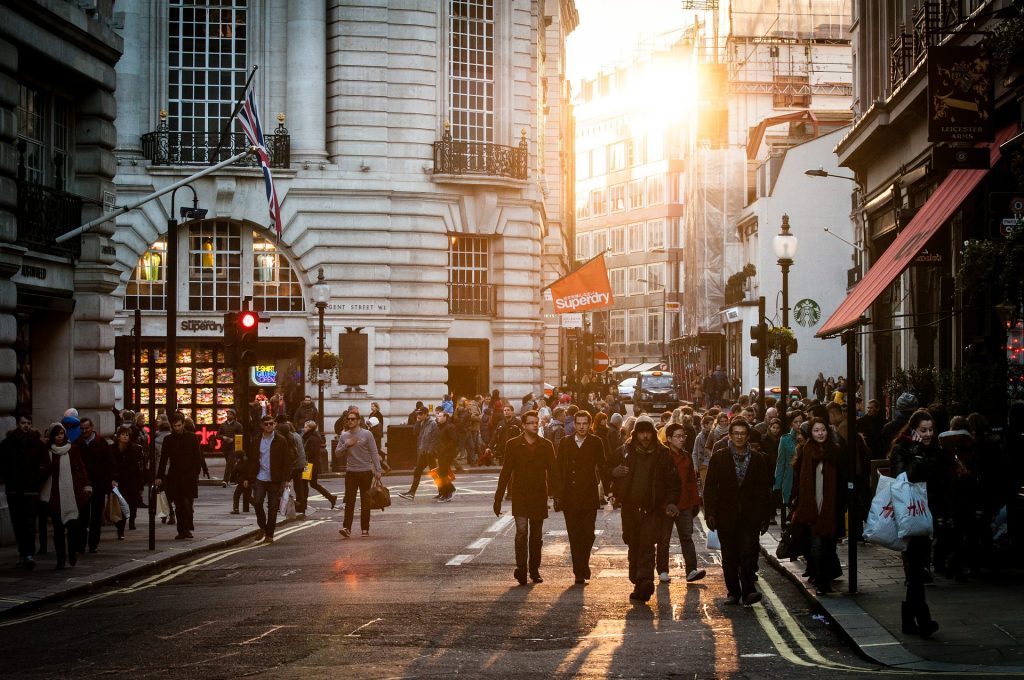 Bottom line, if you're trying to market your nail salon, this is one of the free ways you can do for web traffic. If you're a start-up nail salon these are very good tips because it can make or break you. Clients are always looking for new salons so don't be scared to be out there.
Now if you're an existing nail salon who has not updated the listing in 10 years, I suggest you follow my lead. Times change and in order to be a competitive salon, you're going to have to do the latest marketing tips.
In my next article, I'll update and we will link everything together.
Improve your google business page now!
Happy Pedicures 🙂